Welcome to my shop!
All pieces are made to order and can be customized.
Repurposed Designer Button Jewelry
These beautiful pieces are handcrafted using authentic designer buttons. The designer buttons are upcycled from designer clothing and accessories such as zipper pulls, makeup bags, belts. wallets, key chains, etc and reworked into new styles.
All these unique pieces are handmade by me and can be customized. Prices vary on the rarity of the buttons and are subject to change frequently.
SHOP NOW
The Jumbo Pendant with Crystals in Gold
As seen on @everydayisdarling- The Jumbo Pendant with Crystals in Gold. For reference, she is wearing the necklace in the 17"-19" length.
SHOP THE NECKLACE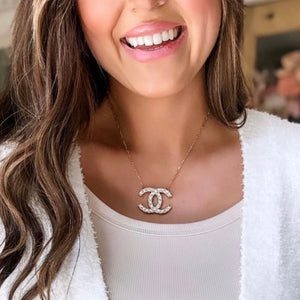 As Seen On @Everydayisdarling
These best selling stud earrings are perfect for every day and will add a little sparkle to your outfit! They are available in gold or silver.
Shop the earrings
As Seen On Rachel Moon @rachmoon
Rachel is wearing The Carrie Earrings in Pink. They are also available in black or white.
SHOP NOW
Custom Orders
I love to make custom pieces! Whether you send me a picture of a jewelry piece you like or just want to change something on one of my pieces on my site...the options are endless. You can start a chat in the chat box or email me directly: tokabonline@gmail.com